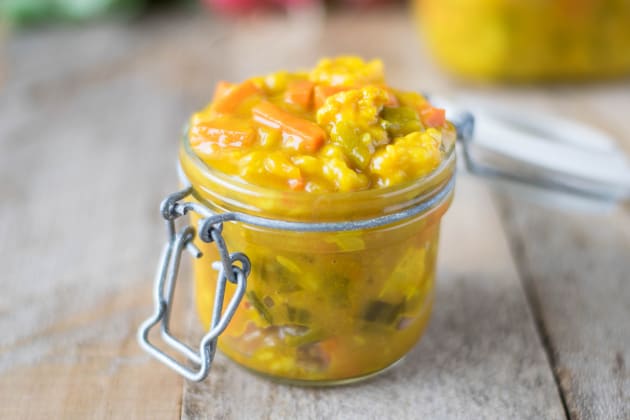 Piccalilli is a sweet and savory relish very similar to chow chow.  I serve piccalilli with hot dogs, hamburgers, cold appetizers, and I love it on hog head cheese.
1 small red bell pepper, 1 small orange bell pepper, 12 green tomatoes, chopped, 2 red onions, 1 cup celery, 2 jalapeno peppers, 1 small head of green cabbage, 3 Persian cucumbers, 1 cup Cajun seasoning salt, 3 quarts apple cider vinegar, 1 cup sugar, 1 cup brown sugar, 1 teaspoon ground ginger, 1 teaspoon ground cinnamon, 1 tablespoons ground mustard, 2 cinnamon sticks, 1 tablespoon mustard seeds, 2 tablespoons grated horse-radish.
Wash and cut up all the vegetables. Get out a large soup pot, layer the vegetables, salt after each layer.  Refrigerate the pot for at least 6 hours.  Drain the pot, add the remaining ingredients to the pot.  Cook on medium heat until the vegetables are tender, remove from the stove, remove the cinnamon sticks and bay leaves.  Pour into hot sterilized canning jars.