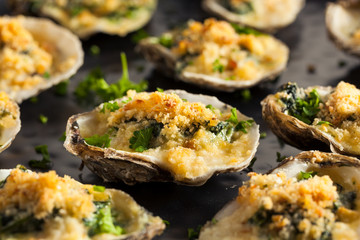 3 dozen oysters, 10-12 slices bacon, fried crispy and crumbled, 1 cup fresh spinach, chopped, 1/2 cup  fresh cilantro, minced, 1/4 cup fresh celery leaves, 2 tsp. fish seasoning, 1 tsp. white pepper, 1/3 cup fresh lemon juice, 2 1/2 T. anise-flavored liqueur, do not substitute, 3 garlic cloves, minced, 1 cup parmesan cheese, grated, 3/4 cup salted butter, melted, 3/4 cup bread crumbs.
Prior to cooking check the oysters for freshness.  Place them on a hard surface and gently tap them, they should close their shell. Discard any one of them that does not.  Put the oysters on a HOT grill grate with the deepest shell down.  This placement ensures you retain the juices. Grill them for 5-8 minutes.  Theshells will open or at least crack. Remove them from the grill when they open.
Pry off the top shell, and pour the juices into a bowl.  Add minced garlic, melted parmesan cheese,  ground ginger, 6-8 potato chips, crushed, and 2 minced jalapeno peppers, mix well this is your spicy  sauce.
Put the oysters back on the half shell and set them aside.  In a skillet, add the butter, spinach, cilantro, green onions, lemon juice, and liqueur, mix well.  Taste, add the dry seasonings, garlic, and cheese.  Simmer until this mixture has reduced in half.  Refrigerate for 17-20 minutes or until chilled.  When you take it out of the refrigerator, it will have thickened.  Add a heaping spoon of the spinach mixture on top of each oyster.  Get out a cooking tray, add 1-1 1/2 inches of rock salt.  Put the pan in a 475-degree oven until the salt is hot. Arrange the oysters on the salt.  Turn the oven to broil.  Add the bread crumbs and continue to cook until the bread crumbs brown. Remove from the oven and sprinkle the grated parmesan cheese and the crumbled bacon.